Some people enjoy the hustle and bustle of large resorts like Playa del Ingles or Puerto Rico but that isn't for everyone. If you are looking for something smaller and quieter, especially if you have young kids or if you are an older couple, what about Puerto Mogan?
The beach is just as nice as the ones at Playa del Ingles or Puerto Rico and the resort itself is a lot quieter. Other quiet resorts include Taurito and Tauro (both between Puerto Rico and Puerto Mogan), San Agustin (especially quiet in the winter season and popular with Scandinavians) and Bahia Feliz (near San Agustin).
If you are looking for lively nightlife, your best bet is Playa del Ingles, Maspalomas or Puerto Rico, although you can walk to the centre in half an hour from San Agustin, but if peace and quiet is more appealing, Puerto de Mogan is good. Camping in Gran Canaria is another option or what about Pueblo de Mogan which is off the beaten track?
Is It Always Quiet?
The only busy day is Friday when the market is on and unless you want to browse the incredibly busy Mogan market you  might want to do a day trip on the Friday! Walking and hiking in Gran Canaria are fun, or you can do a dolphin trip, a day trip to one of the other resorts or even get the bus to Las Palmas to see the capital. Have a look here for some handy hiking information.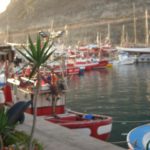 Accommodation in Puerto de Mogan is varied and you can choose from huge complexes like Gloria Palace to smaller apartments or villas like this one or this one. There are also lots of small villas around the port itself which you can visit and stay in. These have no gardens or balconies but they are a few minutes from the beach.