February is one of the coldest months in Gran Canaria and we actually have snow 1600 metres up right now! This month has been strange weather-wise. We've had rain and strong winds. The wind last Thursday and Friday night was about 60 kmph and there were boat covers, papers and all sorts blowing all over the harbour in Puerto Rico! Needless to say I didn't sell much fishing that day!
Today is beautiful. 🙂 Hang on, I'll just go outside and get a photo…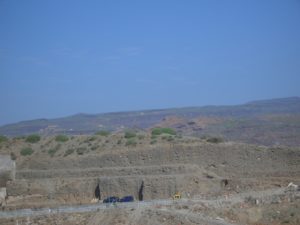 Not the most exciting photo but at least you can see the blue sky! The weather in Gran Canaria is pretty reliable, for example during May and September you rarely see a cloud, but February is changeable so if you are have booked a holiday in Gran Canaria for later in the month, bring something with sleeves and something with long legs.
Saying that, I can sit at my desk in the harbour wearing a fleece, jeans, boots and still shivering and people walk past me in trunks and bikinis! I guess 20ºC might feel on the cold side to me (well I have been here for 10 years!) but not to everybody 😀 Just bring clothes for all seasons and you'll be fine!